Artists find inspiration for artwork many places. Sometimes an image just pops into your head and you know you have to commit it to paper in the form of a painting. Other times you see a wonderful landscape and you want to paint but cannot take the time at that moment to paint
en
plein air
so a photo is shot to use as a reference later.
My husband Glenn and I took a trip this past weekend to visit friends and relatives in south eastern Washington. Our journey took us into farm country where his cousin lives and I shot a photo of the striped hillside because I was intrigued by it. The stripes were perfect. We also visited a small town that was clean and charming. I photographed it for reference for a painting to be done in the future. I love the idea of capturing this small street scene in watercolor.
Where ever we go I am on the lookout for interesting ideas for paintings. The other day I was in the back yard and our apple tree is in full bloom with gorgeous pink blossoms. I grabbed my camera and shot several photos of the beautiful blooms. I am not sure what I will do with the composition of the painting I plan to do, however, I have some wonderful reference shots.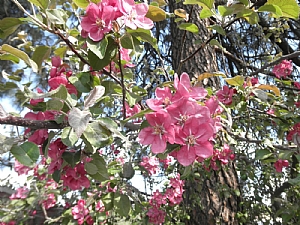 I have collected many photos of wonderful things. Will I paint them all? Who knows, however, when the desire to paint is strong and I can't let it go, those references will be a great tool to use as I plan my painting.